A swimmer at age 5 and a runner at age 12. Ian Tovell has completed a full Ironman in under 12 hours, several half Ironmans and hundreds of races over the years including 10 Half Marathons and 6 Marathons. Last year he set the course record at Peaks to Portland, swimming 2.4 miles in under an hour. "Because he's a beast." Meet Ian, our newest Mindbosa brand ambassador.
What keeps you going? What are you the most passionate about today at age 29?
That is a great question. Sometimes I ask myself the same thing, why do I keep doing these things. I think when it comes down to it what keeps me going is trying to push myself to the limits both physically and mentally every single day. That is why I continue to do races whether it be a 5k, marathon or even Ironman competitions as I believe I can always improve and get faster. Over the past 15 years, I keep finding new things that keep my love for competition strong. Currently, running is what I am most focused on right now and am working to qualify for the Boston Marathon this fall at either the Chicago Marathon or the Dublin Marathon. I am fortunate enough to be raising money for St. Jude's Children Hospital for the Chicago Marathon. My fundraising page can be found below.
What opportunities has being an athlete provided you?
I think being an athlete opens a ton of opportunities no matter what level you are competing at. Personally, some of my closest, lifelong friends are people I have met through sports whether in High School or during my college career as a D1 runner and triathlete. In addition to the people you meet along the way, being an athlete has taught me a lot about discipline and helped me focus more in school and be a better person and a better student. Being an athlete also prepared me for failure and taught me how to be adaptable which I have been able to take into my professional life. The other opportunity being an athlete has provided me is that I have had the chance to travel all over the world including places like Austria, Finland, Germany, Brazil, and other amazing countries. Being an athlete has molded me into the person I am today and is a big part of my personality. I don't think I would change anything about my experience.
What is I-Tri Performance?
I-Tri Performance is my personal running coaching site I started about a year ago. I started my business in response for a few friends looking for running help and training plans for specific races they were doing. I wanted to give back to the running community and try to help people who need someone to hold them accountable or just need a little more guidance with their training plan. If you or someone you know needs some guidance or a customized plan, feel free to check out my site and plans.
How has running affected your relationships with family, friends, and community?
Running has had a significant impact on me and everyone that is in my life. Running has shaped me into the person I am today and has given me the opportunity to meet so many awesome people. It has helped me engage with the local Maine community and foster new relationships with those who share my passion for competition. Training takes up a lot of time, and without the support of my friends and family, I wouldn't have been able to put in as much time as I do. Being part of the running community has been a great privilege, as everyone is so supportive of each other.
A Message from Ashely Robinson Tovell (Ian's wife)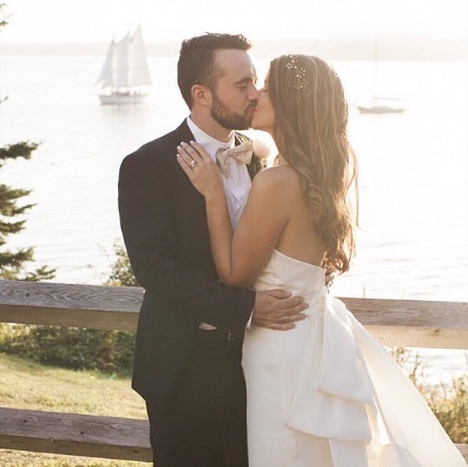 In one word, Ashley best describes Ian as "Authentic."
What's a hurdle you've overcome? What lessons did you learn and can you share advice for someone experiencing something similar?
I have been fortunate enough throughout my athletic career as I have never had a serious hurdle I have had to overcome as others have. But I think every athlete no matter what level you are at you go through peaks and valleys when it comes to physical and mental motivation and health. The real struggle is when you are in a valley how are you going to get through it and make it to the other side to enjoy the peak that we all love. After I completed an Ironman last August, I have been in a constant valley when it comes to both mental and physical strength. I have not had the motivation to get out and train at the level I was, and mentally I felt drained. I couldn't figure out what was wrong with me since a huge part of my identity is being an athlete. But it is this time where mental toughness takes over, and you need to remind yourself you are going to get through this and make it to the other side. The way I dealt with the valley was to dial back and fall back in love with training and racing by doing different workouts that were fun. The main thing I focused on was not to put pressure on myself to train or get that workout done, by doing this I was able to enjoy everything I was doing and start to have fun with training again. I think if I had any advice for someone going through something similar is that this time will pass and you will get through the low point. You need to stay strong and find ways to make training fun and new because if you keep pounding the pavement, you will lose yourself and lose the love of the sport.
I think Ian forgot to mention this hurdle! Ouch!
Is having a daily routine and setting goals vital to you?
Yeah, I think it is very vital for me to have a routine and a goal I am working towards. By having a daily routine, I can make sure I am giving enough time to my training as well as my personal and professional life. I keep a calendar of everything I have to do that week to make sure I do not over schedule myself or get involved in too many things. By following a written calendar, it holds me accountable and serves as a daily reminder of my goals. I try to make sure I go to bed at the same time as well as get up at the same time to get my body in a routine. As far as goals, I think goals are essential to have not just in athletics but in your life as a whole. I think we always need to be setting goals, so we push ourselves to be better, and if we accomplish one goal, we set another one. For me, goals have helped me become a better overall person and has helped me achieve a lot of my athletic and professional goals.
Many people associate running with not being able to breathe. Would you say running has allowed you to breathe easier in everyday life?
Running for me is my release, it is my happy place. If I ever have a bad day, I am angry, sad, etc., running helps keep my head clear and think my thoughts out. I can't tell you how many times I have made major decisions while out running. Running has become part of my daily routine, and if I miss running a few days in a row, I start to get very anxious until I go out for a run, and then all my worries and nerves go away. Running has given me the ability to "breathe" and deal with everyday stresses.
Do you have a mantra you repeat during training or racing?
It is funny I don't think I have one go to saying that I go to, but there are many things I think about while I am training or racing. It usually is an upbeat song, something that has a good beat to keep me distracted and to give me a good pattern to run or bike to. When I swim, it tends to be internally singing 'Staying Alive' by the Bee Gees because it gives me a good pace for my arms to be moving. It's important for me when I am working out to try to stay relaxed as possible and let my brain go wherever it needs to. A lot of my thinking comes when I am training, and usually near the end of a tough workout, my mantra usually is something along the lines of, "just get to the next telephone pole," then repeat that until I am done with the training.
Aside from being a competitive athlete, you are the Director of Program Management at Propel. How did you get involved with Propel and what does your current role include? Do you have any upcoming events I can share?
I found out about Propel on accident. I am active on Linkedin and connect with people all the time, and one of my connections wrote how she was leaving Propel and how it was such a great organization. So, I started to look into what Propel was, and I connected with the mission and wanted to be involved. I reached out to the President and got involved right away. My current role for Propel is Director of Program Management, and what I do is help make sure all our programs have the resources they need to be successful and we as a group, are putting on events to engage the community and young professionals.
We have a great event coming up called Ignition Awards on June 28 at Tiqa. This is our event of the year recognizing great businesses all throughout Maine. We have various awards we give out based on nominations from the public. At Propel, we believe Maine is a great state to start a business, and we get to see all the small and large awesome businesses that are helping Maine grow and thrive. Some of the categories are Hustler of the Year, Growth Stimulation Award, and our newest award Young Entrepreneur of the Year.
What is the next checkmark on your bucket list?
At this point, it is hard to know, but I think the next thing I want to accomplish after I qualify for the Boston Marathon would be doing an ultramarathon preferably on the trail. I think I will start with a 50k and work my way up to a 100k.
What is your favorite "can't live without it" app you use and why?
My favorite app I always need to have is my TrainingPeaks app because without it I would not know what workouts I should be doing and where my fitness is currently.
What is your favorite motivational/inspirational quote?
"To Give Anything less than your best is to sacrifice the gift." ~Steve Prefontaine~
In one word, describe yourself:
Evolving
Did you enjoy this blog feature?
Please help by entering your email and sharing this story. We can use technology and social media for greater good and make a positive difference in the world we coexist. Thank you for reading.
Support Ian!
Every Dollars Counts! Help Ian with his mission to qualify for Boston and raise money for St. Jude's Children Hospital.